Address :
La Seguiniere Marques Avenue
Z.I. de la Ménardière
Rue du Bocage
France
Phone :
+33 (0)2 41 70 17 70
Opening Times :
Monday to Saturday 10.00 am to 7.00 pm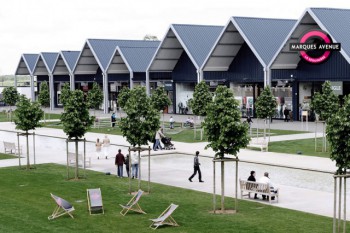 Marques Avenue La Séguinière is located on the outskirts of the ancient town of Cholet in western France. Historically famous for its weaving the town is now home to the Marques Avenue La Séguinière outlet centre with its wide range of clothing and fabric bargains.
The centre is designed as a contemporary cloister, creating a destination in its own right. 40 stores are laid out around a very long, soothing pool surrounded by gardens and playgrounds with wooden children's games and lounge chairs to catch the first rays of sunshine; providing a relaxing setting for bargain hunting, so different from the crush of modern malls.
Throughout the centre over 80 major brands synonymous with style and quality such as Oxbow, Petit Bateau, Kickers, Caroll, Le Creuset, IKKS, Princesse Tam-Tam, Aigle, Seb, Catimini, Georges Rech, Anne de Solène, Dim, Delsey, and Levi's are available with discounts rising from 30% to 70% off the recommended prices in high street stores.
For lunch or a break from bargains La Mie Caline restaurant offers hot coffee and pastries along with home-made sandwiches, quiches and salads all freshly prepared on site every day.
Access :
On the outskirts of Cholet, 40 minutes south east of Nantes (E62) and south west of Anger (A87)
Brands:
Absorba, Aigle, Anne de Solène, Arc International, Bayard, Bébé Confort, Bougies La Française, Caroll, Catimini, Charles Le Golf, Chipie, Delsey, De Fursac, Elizabeth Stuart, Galeries Lafayette Outlet, Hardrige, Heyraud, Home&Cook, Ikks Adultes, Ikks Enfants, Jean Bourget, Jerem, Kickers, Kindy, Levi's, Le Cotonnier, Le Creuset, Maé Mahé, New Man, Oxbow, Petit Bateau, Princesse Tam-Tam, Quiksilver, Real Chocolat, Salamander, Yves Delorme, Superdry, The Lingerie Shop, Dim, Tom Tailor, Tradition des Vosges, Triumph,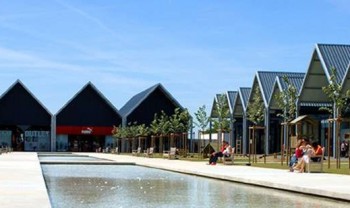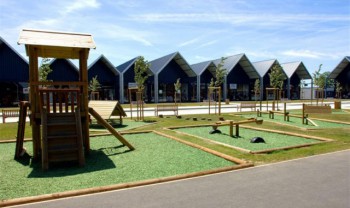 Link :
For more information Marques Avenue La Seguiniere