Address :
Bordeaux Quai des Marques
Hangars 15 à 19
Quai des Chartrons
France
Phone :
+33 (0)5 57 87 30 08
Opening Times :
During Winter : Tuesday to Saturday 11.00 am - 7.00 pm ; During Summer : Tuesday to Saturday 10.00 am - 8.00 pm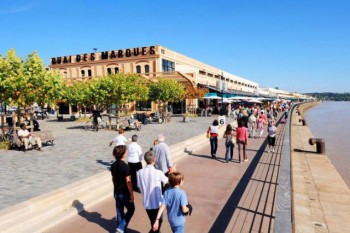 The Quai des Marques outlet centre in the famous south western city of Bordeaux has a beautiful setting on the restored quaysides of the River Garonne. Like the city itself, the centre is perfect for wandering around in the pleasant Aquitaine weather with all the comfort and style you expect from a city which boasts UNESCO World Heritage listing as well as being home to the world famous Bordeaux vineyards.
Within the four restored dockside buildings of Bordeaux's Quai des Marques around 50 stores provide discounted bargains of at least 30% for men's, women's and children's clothing and fashion; as well as great sportswear bargains. Top French brands such as Guy Degrenne tableware, Jalla fabrics and Anne de Solène Paris, upscale linens; also provide great bargains across all areas of homeware.
Non-shoppers are also catered for at Quai des Marques with 13 different restaurants and sidewalk cafes catering for all tastes; for resting between bargain hunting or just relaxing and watching the world go by. The setting is perfect for casual browsing as well as exploring the historic riverside setting, you can even hire cycles for all ages to pedal around the waterfront.
Access :
A few minutes from the centre of Bordeaux
Brands:
Anne de Solène, Bayard, BoConcept, Café Coton, Café Garonne, Clarks, Comptoir Des Cotonniers, Cook&Go, Delsey, Du Pareil au Même, Eminence, Gien, Guy Degrenne Factory, Heyraud, Home & Cook, Hugo Boss, Ice Room, Jalla, JB Martin, Jerem, Laurent Glacier, La Belle Excuse, Les Docks, Le Coq Sportif, Le Creuset, Le Dynastie, Le Temps des Cerises, Le Txistu, Lindt, Little Marcel, Nodus, Noël Babybotte, Nydel, Prima Musica, Princesse Tam-Tam, Quai West, Reebok, Salomon, School Rag, Teddy Smith, The Lingerie Shop, Dim, Tradition des Vosges, Westside,