Address :
Chatham Dockside Outlet Centre
United Kingdom
Phone :
+44(0) 1634 899 389
Opening Times :
Monday -Wednesday, Saturday: 09:00 - 18:00 ; Thursday - Friday: 09:00 - 19:00 ; Sunday: 11:00 - 17:00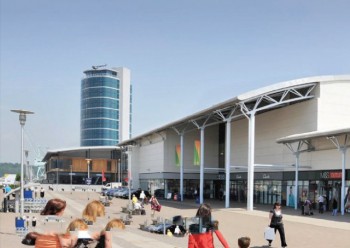 The historic town of Chatham sits on the Medway estuary on the north coast of Kent in the south east of England. The town has a long naval tradition - Chatham was established as a royal dockyard by Elizabeth I in 1567 and through the centuries has provided over 500 ships for the Royal Navy; taking advantage of the long river quaysides and the town's closeness to the capital city of London. As well as picking up great bargains at the Dockside Outlet Centre, visitors to Chatham can still take in the town's long and fascinating history at the nearby Chatham Historic Dockyard heritage site.
Today the Dockside Outlet Centre in Chatham offers a wide range of goods including furniture, furnishings, household goods, craft and kitchenware as well as top sports and fashion brands; all sold at discounts and outlet prices of up to 50% off high street prices. Top outlet stores include M&S Outlet, Trespass, The Range and Mountain Warehouse for everything from homeware to top styles and rugged outdoor clothing and equipment. 
With its pleasant quayside setting Chatham's Dockside outlet centre is close to several cafes, bars and restaurants to relax in between bargain hunting; from a quayside coffee at Starbucks to a choice of every type of food outlet and restaurant at the neighbouring Dickens World and Odeon leisure centre.
Access :
The nearest station to the centre is Chatham Railway station. From outside the station, catch a 140/141 bus to Dockside Outlet Centre. The bus journey takes about ten minutes.
Brands:
M&S Outlet, The Range, Rectella, Trespass, The Works, The Gift Company, Suit Direct, Pilot Room, Roman Originals, Poundstretcher, Pavers Shoes, Mountain Warehouse, Moss, MODA, Holland & Barrett, Home Plus Furniture, Choice Home, Caffè Fratelli, Emotions, Double Two, Denby, Cotton Traders, Clarks, Claire's, Choice, Cadbury, Boomers, Bijoux, Betty Boo Bridal, Barönjon, Bags ETC, Baggage Factory, The Pet Hut, VIP Premium Vaping, Boomers Bakery,
Link :
More information