Address :
Vila Do Conde The Style Outlets
4485-592
Modivas Vila Do Conde
Portugal
Phone :
(+22) 928 99 59
Opening Times :
Every days : 10:00 - 23:00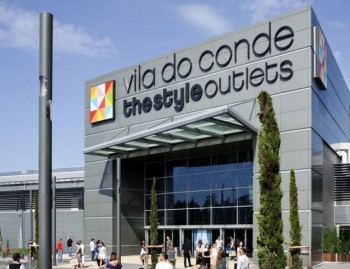 Architecturally striking, the entrance to this huge indoor outlet mall is a work of art in itself. Inside the crisp style of the single floor shopping centre gives shoppers everything they need. From Agostini to Zippy, Vila do Conde The Style Outlets offers the full A - Z of great brands at outlet centre discounts of up to 70%. It is no surprise that Vila do Conde The Style Outlets won the ICSC Best European Outlet Centre title in 2006.
If you need a break from shopping, 'The Style Lounge' provides the setting for a wide range of food and drinks, to relax over a coffee or to re-fuel ahead of more bargain hunting. For youngsters the centre also has an indoor play area 'The Style Play Zone - Pau de Giz (Stick of Chalk)' to keep the little ones entertained when they have finished trying things on in stores like Blue Kids, Lib, Trasluz and Benetton.
For visitors to Porto in August and early September, the centre has a free air conditioned shuttle bus service with public pick up points as well as the chance for a door to door service from some of the city's hotels - check with your hotel reception for details.
Access :
By car: Leave the A28 coast road at Exit 13 ( Mindelo / Zona Comercial ) approximately 25km north of Porto ; By train: Metro Red Line B - Modivas Centro Stop with a free shuttle from 9.30 am to 11 pm ; Shuttle Bus: From August 8 to September free shuttle from Porto to Vila do Conde The Style Outlets. Make your reservation at your hotel or online
Brands:
Agostini, Ana Sousa, Arcopedico, Asics, Bébé Confort, BeOnTime, Bimba & Lola, Blue Kids, Blue River, Botton, Bruxelas, Bus Urban Wear, Calvin Klein, Calzedonia, Carciofi, Carolina Herrera, Casa das Peles, Cascata, CDV, Charanga, Claire´s, Classic Toys, Colchões & Companhia, Converse, Crocs, Decenio, Degraus do Tempo, Desigual, Douglas, El Ganso, Ericeira Surf & Skate, Eureka, Ferrache, Forecast, Furla, Geox, Giovanni Galli, Coquelicot, Guess, H /Slow, Hispanitas, Home & Cook, Italian Job, Jerem, Kiko, Knot, La Fée Maraboutée, La Perla, Lacoste, Lameirinho, Lefties, Levi's, Lib Baby & Kids, Lion of Porches, Mango, MAX, Michael Kors, Mike Davis, MLbolsas, Mundo dos Fatos, Napapijri, Nautical, Nike, off season FC Porto, Parfois, People´s Phone, Pepe Jeans, Pico, Piel de Toro, Pierre Cardin, Pito da Guia, Polo Ralph Lauren, Prof, Pull & Bear, Puma, Purificacion Garcia, Reebok, Reverie, Roberto Verino, Rockport, Sacoor, Salsa, Samsonite, Seaside, Skechers, SMK, Spaccio, Spal, Stefanel, Sunglass Hut, Swatch, Textura, The Body Shop, Tiffosi, Timberland, Tommy Hilfiger, Tous, Trasluz, Triumph, Trussardi, Under Blue, United colors of Benetton, Villeroy & Boch, Vista Alegre, Vitaminas, Wok to Walk, Xti, Ydentik, Zippy,