Address :
Campera Carregado Outlet
Portugal
Phone :
+351 263 850 030
Opening Times :
Monday - Sunday 10.00am - 10.00pm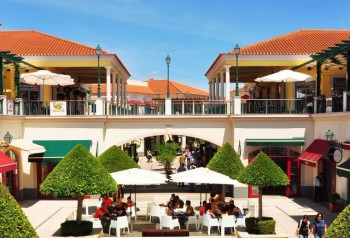 Campera is a large open air outlet centre in the town of Carregado about an hour's drive from the historic Portugese capital city of Lisbon; with its wonderful mix of fine architecture, art and culture mixed with beaches and relaxing bars and restaurants. Beautifully laid out with two storeys of shops and terraces set out around a large square and cooling fountain, the Campera outlet centre is home to a wide range of stores offering a great choice of nationally and internationally recognised brands with some special offers up to 90% off the recommended high street retail prices. The centre offers a great selection of men's and women's fashion, footwear, children's wear, perfumes, accessories; plus special Portuguese porcelain and table ware from Vista Alegre.
Campera outlet centre is also very well supported with a choice of eight good food outlets (a change from the usual fast food and international coffee chains) with cafes including Flor do Cafe and Mundo do Cafe and restaurants including Super Brasa and Telepizza. For younger visitors, Feijao Verde (the Green Bean) provides all kinds of amusements including giant inflatables, playground, skate carts and bumper cars; while the Clube do King provides educational fun with drawing, painting, reading and writing around the theme of lions and other wild animals.
Access :
by road: From Lisbon take the A1 (Autostrada do Norte) approximately 40 km north. At the second exit in junction 4 join the N1 then after about 300m exit onto the N3 and turn into the centre after about 50m. by train: From Lisbon to Castanheira do Ribatejo, where there is free shuttle to the outlet centre (it runs 4 times a day in each direction - check times before you set off).
Brands:
Bags & Ideas, Dimoda, Fabio Lucci, Giovanni Galli, Hush Puppies, Jerem, L. Point, Lefties, Levi Strauss, Lib Baby and Kids, Lion of Porches, Malas & Ideias, Mango, Multiopticas, Mundo dos Fatos, Natura, Nike, Old Ridel, Perfumes & Companhia, Picoloco, Prof, Quiksilver, Sacoor, Salsa, Seaside, Simel, Triumph, Under Blue, Vista Alegre, World Facts,
Link :
For further information on Campera Outlet