Address :
Fashion House Sosnowiec
Poland
Phone :
+48 32 296 50 22
Opening Times :
Monday - Saturday: 10.00 - 21:00 ; Sunday: 10:00 - 20:00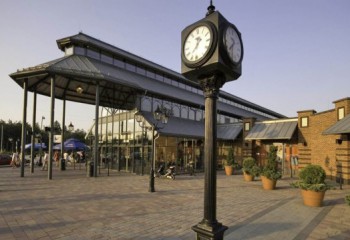 Situated south east of the city of Sosnowiec, the centre is near the interchanges of several major routes making it readily accessible for visitors from southern Poland and the Czech Republic. The Sosnowiec Fashion House Outlet Centre is designed to resemble a nineteenth century Victorian street scene complete with ornamental ironwork clock, its own wood, lake and terrace.
The Fashion House Outlet Centre in Sosnowiec has a strong range of women's and men's clothing and fashion wear. There are around 80 stores each offering minimum discounts of 30% off recommended high street prices with discounts rising to 70% on some lines and extra discounts up to 90% during special promotion periods (check the website for promotion details). Shoppers looking for leather goods can search for bargains amongst brands such as Maximus, Chanti, Ochnik, Underground, Wittchen and the VIP Collection; whilst sports fans are well catered for with brands such as Atomic, Bergson, Nike, New Balance and Quiksilver.
The centre also has a good range of eateries to take a break from bargain hunting - whether it's for a quick coffee stop at Figaro Caffe, grills from Mr Hamburger or Kebab Grill, or a fuller meal at 'Restauracj zem smakiem u Koziolka'.
Access :
The centre is accessed from route 79 (Orlat Lwowskich) at its junction with the main E75/S1 auto-route; approximately 1 km north of the interchange between the E75 and the A4/E40 auto-route.
Brands:
4F, Adidas, Alibione, Americanos, Atlantic, Atomic, Badura, Bajkowy Labirynt, Bergson, Bianca Olsen, Big Star, Blizzard, Brugi, Bushman, Bytom, Hanti, Croccodrillo, Converse, Cross, Dajar, Diverse, Ecco, Echo, Essa, Ewtex, Filippo, Gabor, Gatta, Gino Rossi, Greenpoint, Hao Hao, Hi Tec, Home & Cook, Cropp House, In Medio, Lancerto, Lavard, Lee Cooper, Levi, Louise & Collette, LTB, Malou, Marshal. Maximus, McArthur, Mexx, Mituu, Molton, Monnari, Mountain Warehouse, Mustang, MZGZ, New Balance, Nike, Nord, Ochnik, Olsen Bianca, Paris Woman, Perfumeria Frivol, Pierre Cardin, Pompea, Pretty Woman, Prince, Puma, Queen, Quiksilver, Ravel, Reebok, Regatta, Reporter, Reyjay, Ryfko, Salomon, Samanta, Silesia Jeans, Simple, Solar, Stefanel, Strellson, Symbiosis, Szefler, Tatuum, Timberland, Triumph, Tuzzi, Umbro, Underground, Venezia, Vero Moda, Villeroy & Boch, VIP Man, Vistula, Volcano, Willsoor, Wittchen, Wojak, Wojcik.,