Address :
Wrocław Factory Outlet
Poland
Phone :
+ 48 71 374 00 45
Opening Times :
Monday - Saturday: 11:00-21:00 ; Sunday: 10:00-20:00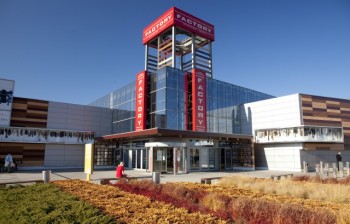 Wroclaw is the fourth largest city in Poland situated in the far south west of the country approximately 100 kilometres from the border with the Czech Republic and 175 kilometres from Germany. The city itself has retained many of its attractive bridges and buildings making it a popular visitor destination.
Factory Wroclaw offers a wide range of bargains in women's, men's and children's fashion, fashion and practical sportswear, footwear, fashion accessories, lingerie and items for the home. All stores in the outlet centre offer great discounts - from a minimum of 30% off the recommended retail prices for high street stores, rising to 70% on many lines and special promotions offering even greater discounts; including periodic money back recycling promotions to help clear out your wardrobe.
The centre also has a newsagent, perfumery and travel agency. The centre has a choice of food outlets. Chill out in the Furore ice cream parlour; watch the world go by over a coffee and cake at So!Coffee; grab a Big Mac at McDonalds; or eat at the unusual Domowe Smaki restaurant which serves a wide range of traditional Polish and Italian all sold by weight, allowing you to choose a portion size that suits your appetite.
Access :
Approximately 8km west of Wroclaw city centre, situated between the inner and outer ring roads. leave the E67 at Graniczna and turn right for a few hundred metres or leave the DW5 at Strzegomska and turn left follow this for approximately 1km then join Granicza on the right at the roundabout.
Brands:
Guess, Olsen, Albione, Big Star, Bytom, Cross, Diverse, Ewtex, Lancerto, Lavard, Lee Cooper, Levis, Magna, Pepe Jeans, Prochnik, ScotFree, Tatuum, Tom Tailor, Tommy Hilfigger, Vero Moda, Willsoor, Wrangler, Zdvowa Stopka, Benetton, Coccodrillo, 4F, Adidas, Asics, Brugi, Hi Tec, Nike, Puma, Quiksilver, Reebok, Salomon, Converse, Ecco, Filippo, Gabor, Gino Rossi, Kasar, McArthur, Quadri Foglio, Salamander, Symbiosis, Atlantic, Calvin Klein, Calzedone, Gatta, Italian fashion, La Vantile, Triumph, Apart, Bellugio, Claire's, Ochnik, Puccini, VIP, Wittchen, Dajar, Greno, Home & Cook,