Address :
Ursus Factory Outlet Warsaw
Poland
Phone :
+ 48 22 478 22 70
Opening Times :
Monday - Saturday: 11:00 - 21:00 ; Sunday: 10:00 - 20:00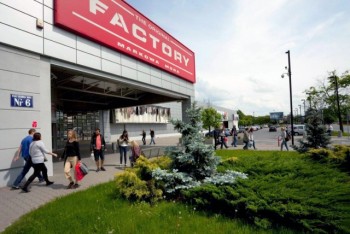 Originally three small villages to the west of Warsaw, the Ursus district grew into an industrial city in its own right before being merged with the city of Warsaw in 1977; it is situated near the main western auto-route from Warsaw to the German Border 450 kilometres away.
Factory Ursus Warsaw offers a wide range of bargains in fashion for men, women and children, sports clothes and equipment, shoes, lingerie, fashion accessories and homeware. All the stores in Factory Ursus offer discounts off the recommended prices for high street stores of between 30% and 70%, check out their website for special promotions offering even greater discounts on selected end of season lines. Top brands include Disegual, Diverse, Timberland, Tom Tailor, Tommy Hilfiger, Benetton, Vero Moda, Nike, Regatta,  Converse, Ecco, Salamander, Symbiosis, Venezia, Atlantic, Calvin Klein, Calzedonia and Villeroy & Boch. The centre also has a newsagent, pharmacy, perfumeries and a travel agency.
For an unusual and innovative dining experience, Domowe Smaki serves a wide range of tastes from traditional Polish dishes to Italian pastas, as well as grilled, steamed, low fat and gluten-free dishes - all sold by weight, allowing you to choose the portion that suits your appetite. The centre also has a choice of coffee shops and ice cream parlours.
Access :
Approximately 12km west of Warsaw city centre, take Polczynska (DW719) out of the city. After about 10km turn right into Swierczcza. Factory Ursus is ahead in Plac Czerwca 1976
Brands:
Cross, Essa. Albione, Big Star, Bytom, Disegual, Diverse, Gerry Weber, Lee Cooper, Pepe Jeans, ScotFree, Timberland, Tom Tailor, Tommy Hilfiger, Volcano, Smyk, Benetton, Vero Moda, 4F, Adidas, Asics, Feel Free, Nike, Puma, Reebok, Regatta, Umbro, Converse, Ecco, Gino Rossi, McArthur, Salamander, Symbiosis, Venezia, Atlantic, Calvin Klein, Calzedonia, Sophie Marel, Gatta, Triumph, Ochnik, Puccini, Time Trend, Paris Optique, W Kruk, Wittchen, Greno, Tchibo, Villeroy & Boch,