Address :
Herzogenaurach Puma and Adidas
Germany
Phone :
+49 (0)9132 74170
Opening Times :
Adidas : Monday to Friday: 9:00 - 20:00 ; Saturday: 9:00 - 18:00 | Puma : Monday to Wednesday: 9:00 - 19:00 ; Thursday to Friday 9:00 - 20:00 ; Saturday 9:00 - 18:00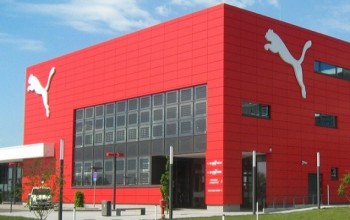 Adidas Outlet Address : Olympiaring 2
Phone: +49 (0)9132 842000
Puma Outlet Address: Puma Way 1,
Phone:+49 (0)9132 74170
Herzogenaurach, in the German region of Bavaria, is probably best known for being the home of the sporting goods companies Adidas and Puma. Originally joint owners of a successful footwear business, in 1948 the Dassler brothers had a bitter row and set up rival businesses. Today the headquarters of both Adidas and Puma are still located in the town, on opposite sides of the Aurach River.
Both sporting giants also have their own specialist outlet stores in the town along with major brands such as Reebok, S. Oliver, Nike, the shoe manufacturer Mahr Schuhfabrik, Teamsport, Sport Eisert and Sport Hoffmann; making Herzogenaurach's outlet stores a 'must visit' destination for sportswear bargain hunters. Away from the out of town outlets, the historic town centre is ideal for browsing around small specialty shops and cafes; along with a regular farmer's market (Wochenmarkt) every Wednesday and Saturday.
Access :
Each outlet store is on its own independent site, however they are all in the same area approximately 2km north east of Herzogenaurach town centre. The area is about 25km north of Nuremberg off the E45 autobahn towards Frankfurt, leaving at the Erlangan-Frauenaurch exit
Brands:
Adidas, Puma, Reebok, s. Oliver, Nike, Mahr Schuhfabrik, Teamsport, Sport Eisert, Sport Hoffmann,