Address :
Troyes Marques City Pont Ste Marie
France
Phone :
+33 (0)9 71 27 02 66
Opening Times :
Monday to Friday : 10.00 am to 7.00 pm; Saturday : 9.30 am to 7.00 pm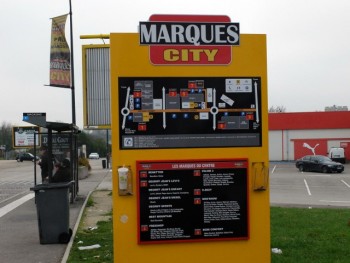 Marques City is one of the three large outlet centres located in Troyes reflecting the town's history as one of the major clothing and textile manufacturing areas in France and its status as the factory outlet centre of France. Marques City is about five minutes to the south east of the town and consists of nine buildings in the Pont Ste Marie retail park.
The stores in Marque City include Benetton, Dégriff Sports, Degriff Jean's Levi's, Degriff Jean's Enfant, Degriff Jean's Diesel, Free Shop (specialising in seconds from the current ranges of top brands), Feline 3 (with sports brands such as Nike, Lotto, Umbro, Kappa,  Airness, Speedo and New Balance), Mod'Show (men's wear including Arrow, Azzaro, Barbour, Balmain, Bugatti, Calvin Klein, Camel Active, Christian Lacroix, Church's, Devernois, Façonnable, Karting, Mise Au Green, New Man, and Pierre Cardin), and Bebe Confort for babies and infants.
With almost 2000 parking spaces the Marques City stores offer a typical out of town outlet shopping experience, with the advantage of having a choice of outlets nearby.
Brands:
Adidas, Airness, AllSize, Alpinestar, Antics, Arena, Armita, Arrow, Asics, Azzaro, Babidéal, Balmain, Barbour, Bébé Confort, Belloni, Benetton, Best Mountain, Big Bang Squad, Bruno St-Hilaire, Bugatti, Cachemire, Calamar, Calvin Klein, Camel Active, Chock, Christian Lacroix, Church's, Complices, Courrèges, DC Shoes, Deeluxe, Desigual, Devernois, Diesel, DN67, Dockers, EEclyss, Element, Energie, Enjoi, Etnies, Georges Rech, Giani 5, Globe, GS Club, Façonnable, Feyue, Fila, Fox, Fred Sabatier, Freegun, Harris Wilson, Harrington, Jezequel, Kaporal, Kappa, Karting, Kenzaro, Lacoste, Lawai, Levi's, Lotto, Lucas Delli, Luigi Morini, Lulu Castagnette, Mac Douglas, Maxfort, Maxi-Cosi, Meyer, Mise au Green, Monster, Montana, Monte Carlo, Mugler Men, New Man, Nike, Nordic Mountain, Not the Same, NY Baseball, Oakwook, Obey, Onado, Oxbow, Paul Brial, Pauporté, Pepe Jean's, Pierre Cardin, Petit Béguin, Pull-in, Redskins, Reebok, Rica Lewis, Rivaldi, Rockstar, Rosy, Quicksilver, Quinny, Safety First, Seidensticker, Shamka, Shepper, Sisley, Sixth June, Speedo, Strellson, Supra, Umbro, Unit, US Marshall, US Polo, Utopik, Wcc, Wesley, Tacchini, Vans, Volcom, Xantos, YMCMB,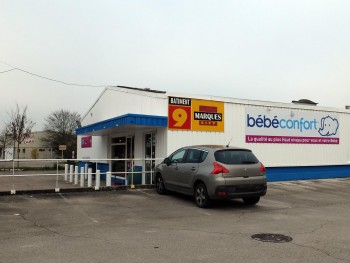 Link :
For further information on Marques City Outlet