Address :
Anneyron Lafuma Outlet
France
Phone :
04 75 31 31 31
Opening Times :
Monday to Saturday : 10 am - 6 pm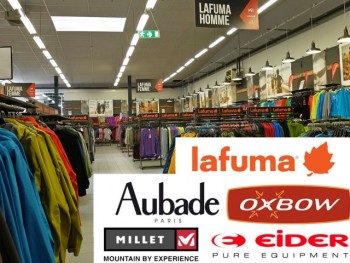 At Anneyron, in the Drôme, a huge Lafuma outlet sells products of the Group: Lafuma, Eider, Oxbow, Millet, Wonderbra ... The store is located next to the factory and offers a large choice of articles of sports and camping. You can hardly come back empty-handed from your visit. You will find sport clothing (jacket, t-shirt, hiking pants…) from the different brands, hiking shoes, and mountaineering (250 €) or climbing shoes (Millet, 40 to 80 €) (up to size 13 1/2), sleeping bags (30 to 80 €), backpacks (20 to 100€) and various accessories (sticks, water bottles, water bladders ...).
Ober jeans are also for sale (around 10 €), Oxbow products (flip flops around 10 €, bathing suits, t-shirts), Clark's shoes (50 €), and Wonderbra and Aubade lingerie...
Regarding pricing, there is a 30% discount on prices in the shop and up to 50% on the second choice and product on sale. Shelves are dedicated to discounted products. Exceptional sales such as clearance sale with 30% discounts or higher throughout the store are organized three times a year (in April, August and December for 3 days) and on these occasions it becomes impossible to get out without buying anything!
Another outlet Lafuma is located in Bellegarde sur Valserine (01200) in the former Eider factory (Eloise).
Our opinion: Anneyron is a mandatory stop on your way to your vacations for all outdoor enthusiasts. It is one of the most popular outlets in France. A huge selection from different brands ... you get lost a little but it is only good stuff!
Access :
45 km from Valence and 1 hour from Lyon
Brands:
Lafuma, Eider, Millet, Wonderbra, Oxbow, Aubade,