Address :
Salzburg Designer Outlet
Austria
Phone :
+43 662 25440
Opening Times :
Monday to Thursday 9:30am to 7pm ; Friday 9:30am to 9pm ; Saturday 9am to 6pm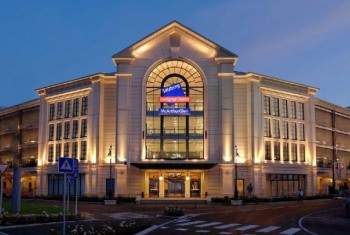 The Designer Outlet Salzburg has over 100 brands with up to 70% off, even on a mix of high street, designer and luxury brands including Belstaff, Calvin Klein, Diesel, Guess, Hugo Boss, René Lezard, Valentino and Zegna Outlet Store.. Enjoy shopping in Austria, just about 5 minutes from the Salzburg International Airport. The outlet has a number of cafes and restaurants, including a children's play area, baby-changing tables and rooms, and ATMs. It has around 2,200 parking slots for visitors and shoppers, so people around Austria, including neighboring countries, can drive over for a shopping weekend.
It is also friendly for people with disabilities, offering disabled access and special parking slots for those with special needs. This includes toilets and even PWD ramps, making your visit to the designer outlet as easy as possible.
Most staff of the outlet are multilingual, so there's no need to worry about being a foreigner who's shopping for great deals in the outlet center. They also have a personal shopper when you need some advice. Just book a consultation through their website in advance, which costs 50EUR per hour. And if you are a shopper from outside the EU, enjoy tax-free shopping, too.
Experience dining in Austria with their restaurants and cafes, right in one place. Enjoy some coffee at Bastian's, or perhaps some sushi over at Kaiten Asia. There's also Tapas at Bodega, and even sausages at Mama's Deli. The stunning city of Salzburg is a favourite with the skiing jet set, Sound of Music addicts, Mozart and opera lovers.
Access :
Just 10 minutes away from the town center. On the A1 motorway, connecting Salzburg and Vienna. Shoppers and visitors may take shuttle bus no. 2 or 10, for those who want to park outside the city of Salzburg, and then ride towards the city center. For those travelling by car, take the A1 motorway and then exit towards the Salzburg Airport, which is a five-minute walk from the airport.
Brands:
Alessio, Asia Cocos, Asics, Baldinini, Barbour, Barutti, Basler, Bassetti, Ben Sherman, Bench, Bodega, BOSS Orange, Brooks Brothers, Bruno Banani, Calida, Calvin Klein, Camel Active, Cinque, CK Underwear, Clarks, Columbia, Crocs, Daniel Hechter, Desigual, Diesel, Ecco, Escada, Estella, Falke, G&I, Gaastra, Garcia, Gardeur, GK Mayer Shoes, Guess Habsburg, Hillinger, Home & Cook, Hugo Boss, Jil Sander, K.I.D.S., Kaiten Asia, Karl Lagerfeld, Kneipp, Kuci Muci, La Perla, Lambert, Le Creuset, Lego Wear, Liska, Luisa Cerano, MAERZ Muenchen, Mama´s Deli, Marc Cain, Marc Picard, Marvelis, Matchless, McGregor, Melvin & Hamilton, Mey, Michael Kors, Möve, Mustang, Nike, Northland, Oliver Weber, PARFUMERIE ALINA, Philipp Plein, Picard, Potatoes, Puma, Rene Lezard, Rifle Jeans, Rosenthal, Roy Robson, Salamander, Samsonite, Sarar, Schiesser, Schneiders, Segafredo, Seidensticker, Seven, Sins, Skechers, Sluis Leder, Sons&Daughters, St. Emile, Stefanel, Stiefelkönig, Strenesse, Sunglass Hut, The Body Shop, Tom Tailor, Trafik, Pliem, Trespass, True Religion, Vanilia, Villeroy & Boch, Wellensteyn, Wiesnkönig, Witty, Knitters, WMF, Wolford, X-Bionic, Zegna, Zwilling,
Link :
More information on the Mall