Address:
Troyes Marques Avenue Outlet
10800
St-Julien les Villas
France
+33 (0)3 25 82 80 80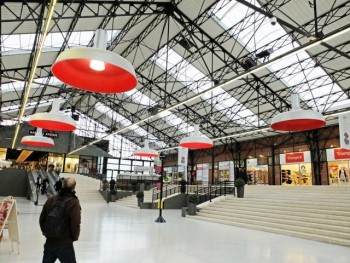 Opening Times:
Monday to Friday: 10am - 7pm; Saturday : 9.30am - 7pm
Description:
Troyes, a city of art and history in the heart of the Champagne region 90 minutes from Paris, boasts a distinguished past combining a manufacturing and trade tradition. This is where major brands such as Petit Bateau and Lacoste were founded. Marques Avenue Troyes, which lies at the crossroads of the A5 and A26 motorways, is an integral part of the historic capital of shopping tourism and a huge customer catchment area. Marques Avenue is one of the three large outlet centres located in Troyes reflecting the town's history as one of the major clothing and textile manufacturing areas in France and its status as the factory outlet centre of France. Marques Avenue is about five minutes to the south east of the town and consists of two malls about six hundred yards apart - Marques Avenue Mode (Fashion) and Marques Avenue Maison et Decoration (Home & Decoration). Marques Avenue Mode hosts over 240 iconic French and international brands, such as Hugo Boss, Le Temps des Cerises, Levi's, Seb, Princesse Tam-Tam, Comptoir des Cotonniers, Teddy Smith, Lee, Chantelle, Rip Curl, Oxbow, Villeroy & Boch, Descamps, Dim…
With almost 2000 parking spaces the Marques Avenue stores offer a typical out of town outlet shopping mall experience, with the advantage of having fashion and home brands nearby. Men's, women's and children's fashion boutiques with brands such as Ikks, le Temps des Cerises, Hugo Boss and le Comptoir des Cotonniers are joined by a wide range of sports, lingerie, shoes, accessories and leather goods in the main store. 
In a strong position due to its distinguished commercial past, Troyes has kept its status as Europe's 13th-century trade fair capital to become its 20th-century factory outlet capital.
Each year over five million people from France and abroad travel an average of 220 km to shop at Europe's biggest concentration of famous-name shops looking for the best brands at bargain prices.
MARQUES AVENUE "Maison & Décoration" is the second Marques Avenue Place near Troyes. It is the only site of its kind in France dedicated to Factory Outlet home and decoration shops. Marques Avenue Maison & Decoration features famous tableware, household linen, decoration and small appliances brands, including Villeroy & Boch, Le Creuset, Anne de Solène (Sonia Rykiel, etc.), Guy Degrenne, Home & Cook (Seb, Tefal, Rowenta, 
Krups, Lagostina, Moulinex, Calor),…
Address: 230 Faubourg Croncels
10000 Troyes
To re-fuel during your shopping expedition, or just to take a quick break, the centre offers a range of food outlets depending on your appetite and taste. Francesca offers a range of tasty Italian meals, La Croissanterie offers traditional French coffee and pastries - or there's always a Big Mac from McDonalds.
Access:
From East Paris: Take the A4 motorway, direction Metz/Nancy, then follow the sign to Troyes by A5. Take exit 21 Troyes/Sud, then follow signs to Troyes/Saint-Julien-les-Villas.From South Paris: Take the A6 motorway, direction Lyon, then follow the sign to Troyes by A5. Take exit 21 Troyes/Sud. From Reims: Take the A26 motorway then follow the A5. Take exit 21 Troyes/ Saint-Thibault.
Brands:
1.2.3, Absorba, Acanthe, Adidas, Antonelle, Arc International, Armor-Lux, Arthur Hector Cheri, Aubade, Bayard, Bcbgmaxazria, Blanc Des Vosges, Bonnie Doon, Bruno Saint Hilaire, Café Coton, Calida, Canat, Caroll, Charles Le Golf, Christine Laure, Comptoir Des Cotonniers, Courir, Damart, Darjeeling, Delsey, Descamps, De Fursac, Eminence, Espace Greg, Etam, Etam Lingerie, Finsbury, Garella, Heyraud, Hugo Boss, Ikks, Izac, JB Martin, Jerem, Kickers, Kids, Kid'store, Lafuma, Lejaby, Levi's, Lewinger, Le Bourget, Le Coq Sportif, Le Cotonnier, Le Phare de la Baleine, Le Tanneur, Le Temps des Cerises, Little Marcel, L'atelier Des Créateurs, Marèse, Mariner, Noël, Babybotte, Odlo, Olly Gan, Olympia, Oxbow, Princesse Tam-Tam, Promod, Regina Clarks, Rip Curl, Saint James, Salamander, Sergent Major, Serge Blanco, Shoe Mark, Sloggi, Stock B, Sun Factory, Teddy Smith, Texier, Texto, The Lingerie Shop, Dim, Tom Tailor, Triumph, Villeroy & Boch, Zapa,